Year in review
Objavljeno: 15. 12. 2022
December is a time to reflect on the year and look ahead to the future.
The year 2022 allowed us to make more personal contacts. We spent more time with students in the classroom and with important stakeholders of Slovenian logistics, sharing experiences and listening to their wishes, needs and initiatives.
We are happy and proud about this year.
TO HIGHLIGHT THE MOST NOTABLE ACHIEVEMENTS.

We are incredibly proud of our scientific research work and our faculty colleagues, who co-create the development of Slovenian logistics. In particular, their contribution to the recognisability of our Faculty and the importance of a scientific approach to logistics research.

We measure the success of research work through research and development projects. The Faculty is involved in the domestic research community through the Slovenian Research Agency ARRS and, like most research institutions in Slovenia, is the recipient of stable funding under the new Research Co-financing Act. Despite this involvement, we continue to acquire and implement several projects addressing topical issues in logistics, supply chains and environmental aspects of modern living.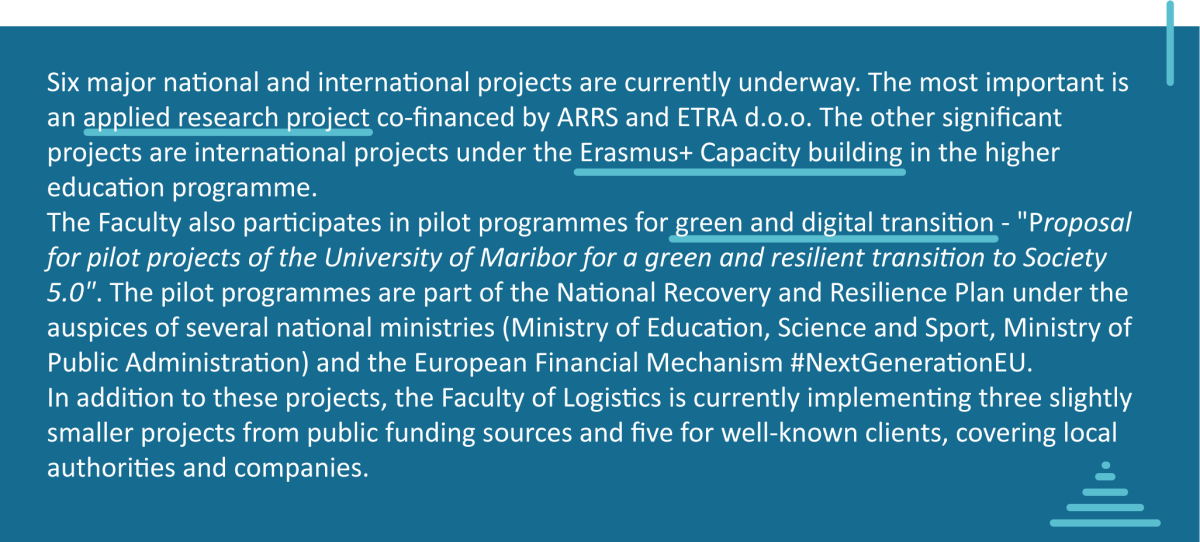 Our work and innovation have made us a vital partner in the Slovenian environment.

We want to point out so much more, but we want to use your reading time to convey a message.
Dean of the Faculty of Logistics, University of Maribor, Prof. Dr. Maja Fošner and colleagues